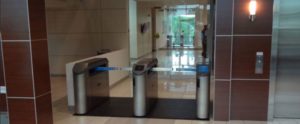 Major government, industrial, financial, health care, and insurance companies as well as educational institutions invest $ thousands in access control and security systems that are ineffective. DSI makes equipment to increase the effectiveness of these systems many times over.
DSI helps stop tailgating (keeping bad guys out); helps keep employees accountable; and keep visitors in control. Whether in a high profile lobby, at a computer room door;  or at a fence-line enclosing a manufacturing or food processing facility, DSI provides attractive entry accessories that easily integrate with card/biometric/PIN access control systems.
Would you like to know more?  Our presentation will provide you with tools to understand what is needed, and where. Please contact us to schedule an appointment.