Thank you to all vets who have proudly and honorably served our country.
I hope to be back in my hometown of Delavan, WI again this year to cheer on a friend's dad Dick Carlson – now a 90 year old Navy vet – whom I hope will march again this year. As a kid I remember how proud I was to see my dad and hundreds of vets march in that parade.  It's now down to a few. (The picture is from last year. He's up front and left in the grey pants.)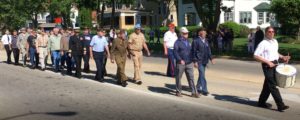 My father served in the Army Air Corps as a Staff Sergeant in Panama during World War II. This picture dates back to 1943.